Starter Pack – Features You'll Love
These handpicked features are just a snippet of our full range of business grade features ready to propel your business into a new lease of life.
Easy to use, powerful and effective; improve how you communicate with customers on the go and present your business more professionally today.
Through customer feedback, we often find that our service delivers the perfect solution to small businesses thanks in part to its simplicity, yet at the same time its enormous capabilities.
This specifically includes our features, which bring a wide range of benefits to thousands of our customers on a daily basis.
We want you to realise these benefits too, as quickly as possible. Therefore, we've gathered a small selection of features which we feel can immediately improve some of the fundamental ways your business operates.
Click between the tabs above to discover more.
Taking calls anywhere, anytime and exactly as you wish made so simple
So you're in the office? Great, pick up the phone just as normal. Oh, you're commuting or making your way to visit a client? Don't sweat it – our features have you covered so you don't need to miss any important calls.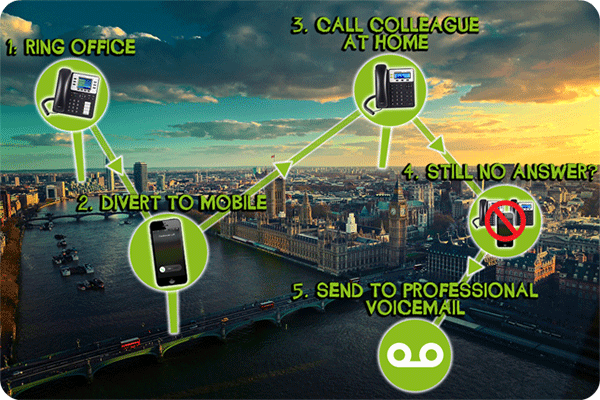 Each day thousands of our customers take advantage of our features to make sure calls are answered by a real person, or at the very least, a professional voicemail system customised exactly as they wish, increasing customer satisfaction and improving how their business is perceived.