ABOUT US
We specialise in international communications software and cloud-based PBX phone systems for businesses.
Established in 2010, we form part of a network that handles 66 million phone calls every year. Goldfish is the first Irish telecoms company to be approved as a telecoms partners by Indian CRM company Zoho for their PhoneBridge integration. Goldfish also provides cloud-based contact centre management software in the form of Quvu.
Based in Greystones, County Wicklow, Goldfish is an Irish-owned cloud-based telecoms company. We provide VoIP services to businesses across Ireland and abroad. Customers include large blue-chip companies, such as Dropbox, IDG Direct and the Sisk Group, to SMEs and start-ups such as Boxever.
Goldfish helps businesses move their telecoms from traditional phone systems to The Cloud. This gives them access to a host of new cloud-based features, as well as lower call costs. Quvu is Goldfish's new 'Software as a Service' for companies that have staff handling high volumes of calls, such as in contact centres. Quvu sits alongside their VoIP services, giving their customers access to a more extensive set of features, such as real-time call data and the ability to use an intelligent dialer to boost call volumes. It also simplifies and streamlines the management of staff that handle either outbound or inbound calls, across multiple locations. It's currently used by companies with operations in Ireland, the U.K. and East Asia.
Our primary voice servers are all located in our Dublin data centres. With back-up servers in data centres in the UK and Germany, we can ensure an unrivalled level of service and reliability.
As an Irish company all our management, engineers, developers and support staff are based in Ireland.
What is our goal?
Our aim is to support our customers in growing their businesses by providing them with access to the latest telecoms services.
Our services are constantly improving with new innovations in technology, which grow our features so that businesses all over Ireland can benefit from our unique technology.
Whilst there are other business cloud telecoms/VoIP providers, none offer the exclusive set of features and real value for money that we do.
Goldfish is renowned for its excellent level of customer support. It is one of the aspects of our service that our customers repeatedly commend us on. This is due to the fact that all our customer service engineers are tech graduates. They undergo a rigorous induction and on-going training to ensure they have the highest level of expertise, business acumen and can demonstrate the insight that is required by our business customers. This ensures our staff have a detailed knowledge of our services. Additionally, they have a good understanding of the requirements of our business customers, thus ensuring unrivalled customers service support.
Our customers
We supply handsets and direct telephone numbers to international blue-chip corporations as well as help a large number of SMEs, start-up and sole traders who only require one or two numbers. Our services are fully expandable, so once you sign up with us you'll have the peace of mind that you can't outgrow us. As your business grows so can the services we provide you. The level of numbers and phones we can provide you is limitless.
At Goldfish, we work hard to understand and value our customers. We know that if they grow, we'll grow with them. We listen to what they have to say and strive to deliver the service and features that they need.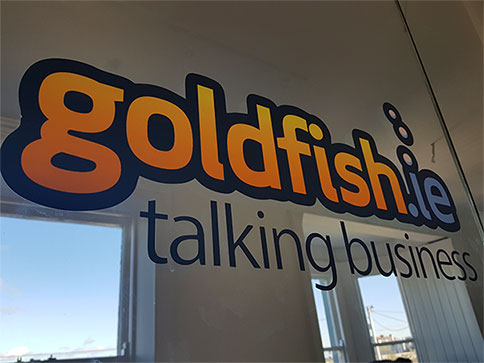 Our location
You can contact us at our office:
"Yarra Yarra"
Beach Road
Greystones
County Wicklow
A63 X954
Company Registered Number 483641
VAT Number 9746030W
Request a callback
To find out more about our company and what we can offer you, you can call us on 015547888 or email us instead at sales@goldfish.ie. Alternatively, fill in your details in the form below and we'll get right back to you.