CALL PLANS & CHARGES
We offer low-cost call rates to Ireland, the UK and all other International destinations.
Our inclusive call plans give you unlimited Ireland & UK landline calls along with a set number of mobile minutes. If our standard call plans aren't suitable for you, we can provide custom call plans designed specifically for you by contacting our Sales team.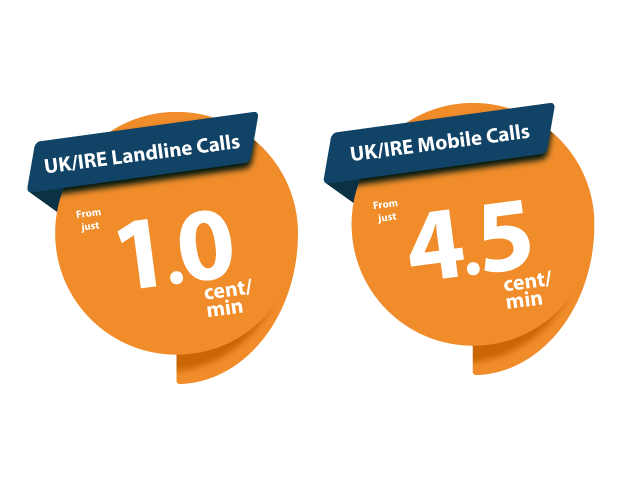 Get cheaper rates with a call plan
We're able to offer some of the cheapest call rates available thanks to our inclusive call plans. Rates start from 1 cent per minute to landlines and 4.5 cent per minute to mobiles. Additionally, calls are billed per second and are always charged in whole numbers of a cent.
* Unlimited plans subject to fair usage policy of 4000 landline minutes. Calls outside of call plan will be charged at the standard rate (1.8 cent per minute for Irish landlines, 14.5 cent per minute for Irish mobiles)
Need a bigger call plan? Call us and we'll provide a free custom-built quote for you.
Standard call rates
Search for a destination in the search bar below which will present to you the correct billing rate for each location. For Irish and UK destinations, such as premium 1800, 1850, 1890 numbers, search for "Ireland" or "United Kingdom".