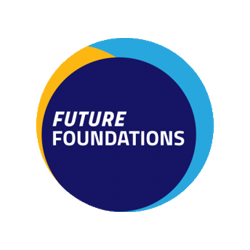 Case study – Future Foundations
Future Foundations (FF) are pioneers in providing training and support services for pupils, school leavers, students and graduates throughout the UK. Working in partnership, we provide coaching, mentoring and training to grow the academic and leadership potential of young people.
Why did Future Foundations choose Goldfish?
We were referred to Goldfish by a colleague who had been using your services for some time and was very happy about the service being provided.
How easy was it to get started?
We started with a single phone and a single number so that we could try the service. The initial set up was very straightforward.
How do Future Foundations use the service?
After their initial trial, Future foundations expanded their installation to include 4 phones in their main office. These operate from a single ADSL connection.
We started out with one phone in a new office and after trialling the service, we were very happy and we now use 4 phones in our office on a regular ADSL connection. We're just about to put VoIP phones into our Directors home office's as well to make homeworking practical. We plan to use the online control panel to ring the main office phones for 30 seconds, then if they're not answered to ring the home office phones.
In addition to our VoIP services, Future foundations use our Fax To Email, Email to Fax services and teleconferencing services.
What do Future Foundations think of the overall service?
We're really impressed with the quality of the service offered. We've only really needed to engage Goldfish support on one previous occasion; where their attention to detail in resolving the problem for us was outstanding.
The day after our issue had been resolved, obscure as it was, Goldfish support staff had already posted it on their forum for anyone else who came across it.
Contacting Future Foundations
Future Foundations can be reached telephone on , +44 20 3137 2290 or on the web at Future Foundations